PRODUCT DETAILS
10% OFF IF YOU BUY TWO OR MORE!!! 
DESCRIPTION:
Name: Peppermint Avocado Toy Ball
Material: abs catnip ball
Try: Cat
Specifications: ball diameter + 27MM shape
Weight: about 25 grams
Shelf life: 24 months
How to use: play directly with the cat
Features: Helping cats to grind teeth, clean mouth, promote the intestinal system, etc.
Technical specifications:
Pure natural mint balls
Healthy intestine: hair discharge bulbs
Cleaning teeth: clean your mouth
Improve appetite: promote digestion
Nutrition supplement: rich in chlorophyll
Different ways to play: lick, hug, and rub
Package Included:
1 * spin mint ball (one mint ball or one insect gall fruit inside)
Set includes 1 * mint ball + 1 * insect gall fruit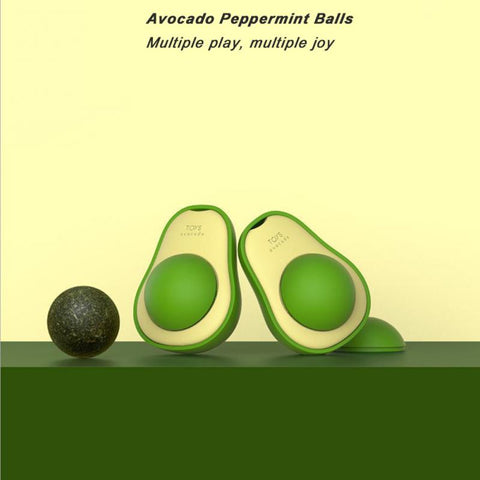 Free Worldwide Shipping on all orders!
The products are shipped out in less than two business days after the order has been passed. We ship always with a tracking number. We ship world-wide and insure your order for 100% of their value. If they get lost, we refund your payment or reship the order. You decide! Shipping usually takes around 1-3 weeks for US customers. For international customers, shipping may take around 2-4 weeks! If you did not receive your item after 45 business days, please advise our client department through the "Contact Us" tab and it will be a pleasure for us to help you out. 

Easy 30 Days Returns
100% Satisfaction Guarantee
Secured & Easy Checkout
Missing/Not As Described: Full Refund
Must Read Description Before Purchasing